A NEW MOVEMENT IN WORKWEAR
Drier. Warmer. Tougher. Lighter.
Bristlecone work jackets were designed to achieve the impossible. Warmth without the weight. Strength without being stiff. Using high-performance fabrication, Bristlecone delivers durability and mobility right where you need it most. Body-mapped, dual-layered construction delivers targeted weather protection, while future-inspired fabrics provide the ultimate in rugged flexibility. Bristlecone keeps you dry, keeps you warm and keeps you moving like never before.
---
High Performance Fabrication
Bristlecone jackets are designed using dual-layered panels for relentless protection, durability and comfort.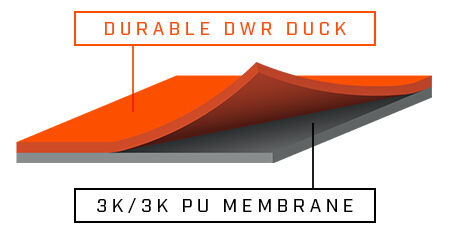 Waterproof Panel
The dual-layered fabrication features a DWR duck exterior, reinforced by a thin-but-strong polyurethane membrane offering exceptional 3K/3K waterproof and breathable protection that moves.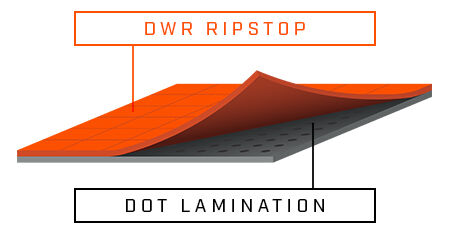 Flex DWR Panel
Built with a flexible nylon/spandex ripstop exterior, this panel is made to move and protect. Reinforced with a dot-lamination coating that breathes, retains heat and is highly impermeable to moisture.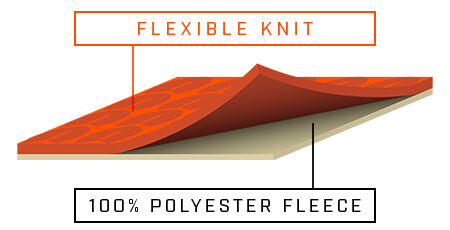 Rugged Gauge Flex Knit
With an innovative stretch exterior, this panel is bonded with polyester fleece for a dual-layered combination that enhances movement, yet maintains warmth and moisture resistance.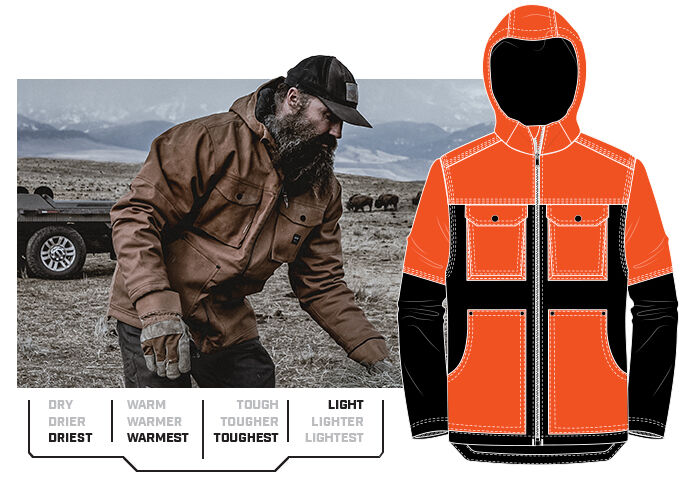 EDGEWOOD
Insulated Duck Work Coat
When you need the full protection of a heavyweight jacket that doesn't weigh you down, the Edgewood has you covered. Built with specialized fabrics and insulation that are conditioned for the most extreme environments.
11 oz. cotton duck with waterproof 3K/3K PU membrane
Seals out weather in five essential protection zones
3 oz. channeled synthetic taffeta insulation
Concealed storm cuffs for a tighter seal
Three-piece lockdown, set-and-forget brimmed hood
Bridgeport
Rugged Gauge Flex Knit Work Jacket
Lighter than the Edgewood, yet uncompromising in protection. The Bridgeport's fabric construction is calibrated to keep you working in comfort when it's cold, wet and harsh. It's the Bristlecone midweight that still feels light in weight.
Rugged Gauge Flex Knit fabric bonded to interior fleece
11 oz. cotton duck with waterproof 3K/3K PU membrane
Seals out weather in three essential protection zones
Double- and triple-needle stitching wears extra tough
Three-piece lockdown, set-and-forget hood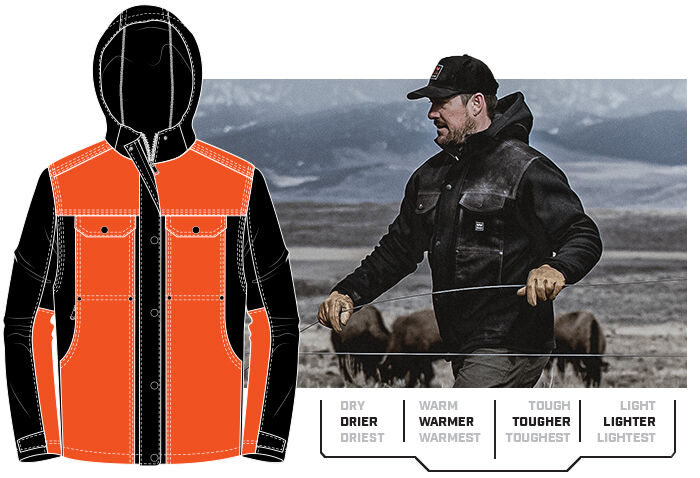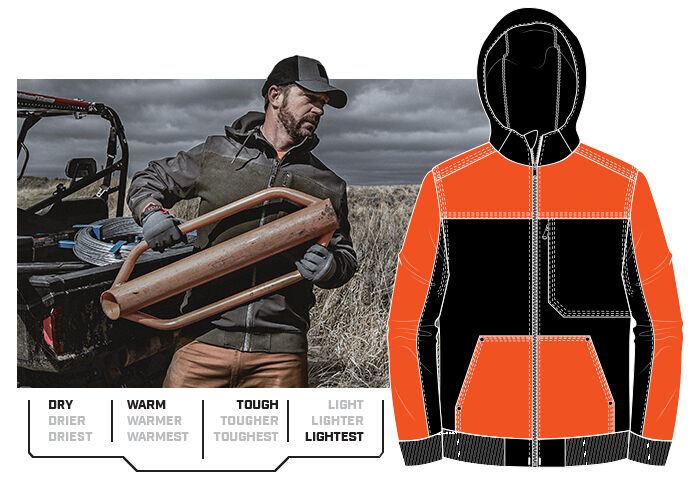 Rockdale
Plaited Flex Knit Work Hoodie
The unparalleled protection of Bristlecone technology in our lightest weight available. Hustle meets weather-blocking muscle in our Rockdale hoodie, combining a full range of motion with a fabric construction that keeps you dry, warm and working hard.
Flex, weatherproof nylon/spandex panels on yoke and sleeve
Dot-lamination interior and surface DWR seals out snow and rain
Articulated sleeves for tough-task mobility
Double- and triple-needle stitching
Three-piece lockdown, set-and-forget hood